Publish to MangoMap
The Publish to MangoMap tool will publish loaded data to a specified MangoMap account. This tool requires an internet connection and a trial or subscription to MangoMap purchased from Blue Marble Geographics. See MangoMap Account for more information.
Select

Publish to MangoMap from the Mango toolbar or select Publish to MangoMap... from the File > Export menu.
Quick Steps for publishing a new map to MangoMap
Load raster and/ or vector data into Global Mapper. Apply any desired styling to the vector features prior to upload. For more information see
Press the Publish to MangoMap button from the Mango toolbar, or go to File > Export > Publish to MangoMap
If you have not created or connected an account, follow the dialogs to create an account. For more information see MangoMap Account
In the Publish MangoMap Options select Create new map.
Specify the Name, Description and BaseMap to be used and press OK to upload the map.
Note: A published map is hidden (marked as offline) by default. Navigate to your Mango Map portal to make the new map publicly visible. You may also choose to make the associated data public in the data portal (it is private by default).
Note: Data uploaded to Mango will be reprojected to Web Mercator projection (Mercator projection with spherical Google Maps datum). This projection, and maps on Mango only covers 85 degrees North to 85 degrees South, and does not support data in the polar regions.
Open MangoMap Connection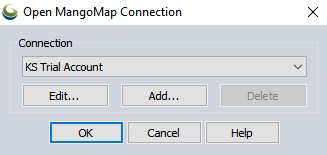 Select the account you would like to upload information to from the connection drop-down. Press OK to publish the currently visible data as new map or add the data to an existing map though the Mango Map Portal.
If this machine has not been previously connected to a MangoMap account, there are additional dialogs that will provide options for linking to a subscription or starting a trial. See MangoMap Account
For more information on the buttons in this dialog see Open MangoMap Connection.
MangoMap Publish Options
When exporting data to MangoMap there are options to create a new map on your account or modify an existing map.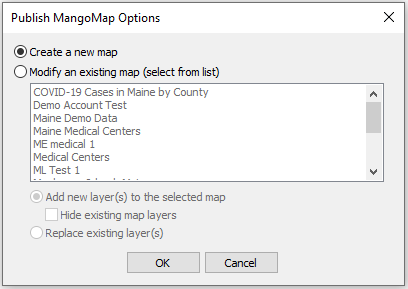 Create New Map
With this option selected you will be prompted to setup and name your new map.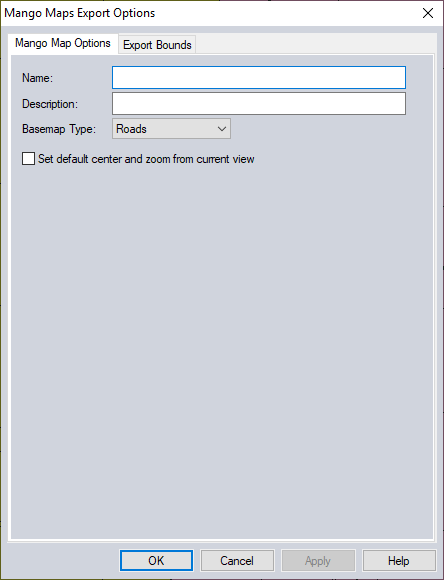 Name

A name for the map

Description

A description for the map

Basemap Type

Indicates the type of basemap to be used on the Mango website. Choices are:

<![CDATA[ ]]>None – no basemap will be used
Roads – a road basemap
<![CDATA[ ]]>Satellite – satellite imagery will be used
Terrain – a terrain map will be used
<![CDATA[ ]]>Hybrid – a combination of a Roads and Satellite

Set default center…

If this option is enabled, the center and zoom from the current view will be used to set the default center and zoom when the map is displayed in the Mango Map Portal.

Export Bounds

Specify the extent of data to upload. For more information see Export Bounds
Note: Global Mapper can only publish to a MangoMap account purchased from Blue Marble Geographics.
Modify an Existing Map
With this radio button selected, select the map from the list you would like to modify.
Add new layer(s) to the selected map - This option will keep existing layers and add the new data layers to the selected map. The option to Hide existing map layers will hide the existing layers when loading the MangoMap but it will not remove them from the map.
Replace existing layers - This option will remove all existing layers from the selected map when uploading the new layers.
Supported Data and Styles
The MangoMap publishing capabilities support the following data:
Raster - All supported raster (imagery and terrain) data is converted to GeotTIFF format before being uploaded to MangoMap. Raster file uploads are limited to no larger than 2GB uncompressed and no larger than 1GB compressed. Raster data downloaded from Online Sources is not supported for export to MangoMap.
Vector - All supported vector data is converted to shapefile format before upload to MangoMap.

2D Point Styles - supports basic shapes such as dot, square, vertical bar, cross, diagonal cross, start, triangle and diamond are supported. In some cases there is no match for the symbol in Mango supported style definitions.
Line Styles - supports solid and some dash or dot patterns of lines, with the lines themselves colored, but no background colors.
Area Styles - supports no fill and solid fill areas. There is also some interpolation of hatch fill patterns, but they may not appear exactly as they do in Global Mapper.