Connecting to a Network License Server
When you launch Global Mapper the Registration Screen will automatically appear.

Select the radio button next to Connect to a Network License Server and click Continue.

Note: To connect to a network license server, the server must first be configured and running on your network.  To set up a network license server, please have your IT staff contact Blue Marble Geographics at: 1-800-616-2725 (+1-207-622-4622 International) or e-mail authorize@bluemarblegeo.com.
Please have your Order number, Server name and Ethernet address ready.




On the next screen, enter the appropriate server name and port number. Select any additional products to activate if they are on the network license. Press Connect to connect to the license server and check-out a license.

The License Manager dialog will appear at the end, confirming the license and providing additional options. Close the dialog to use the checked out license from the network. The license(s) will check back into the license server when the application is closed.
Borrow
Users who may need access to their Network License while offline can choose to borrow a Network License by selecting the Borrow option. Borrowing a Network License will create a temporary license on your local machine that will be automatically returned to the Network License Server at the end of the borrowing period. (If you are staying connected to your license server for the duration of this session you do not need to borrow a license, and can instead check it out for the duration of the application running).
To borrow a network license, navigate to Help > License Manager... This dialog will also appear after connecting to a new network license.
Note: Borrowing an then immediately returning a license sometimes locks the license server.
Press the Borrow link at the end of the listed network license to borrow
A date selection drop-down will activate, select the date that the license should be returned.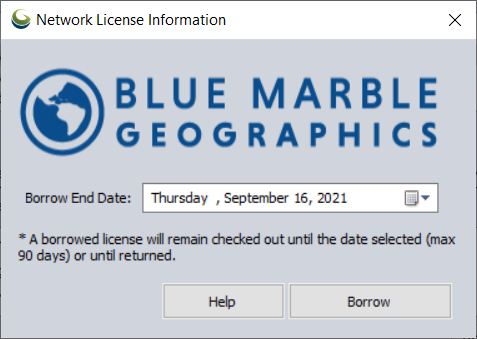 The License Manager Dialog will now indicate that the license has been borrowed. The information will display the expiration date of the borrowed license.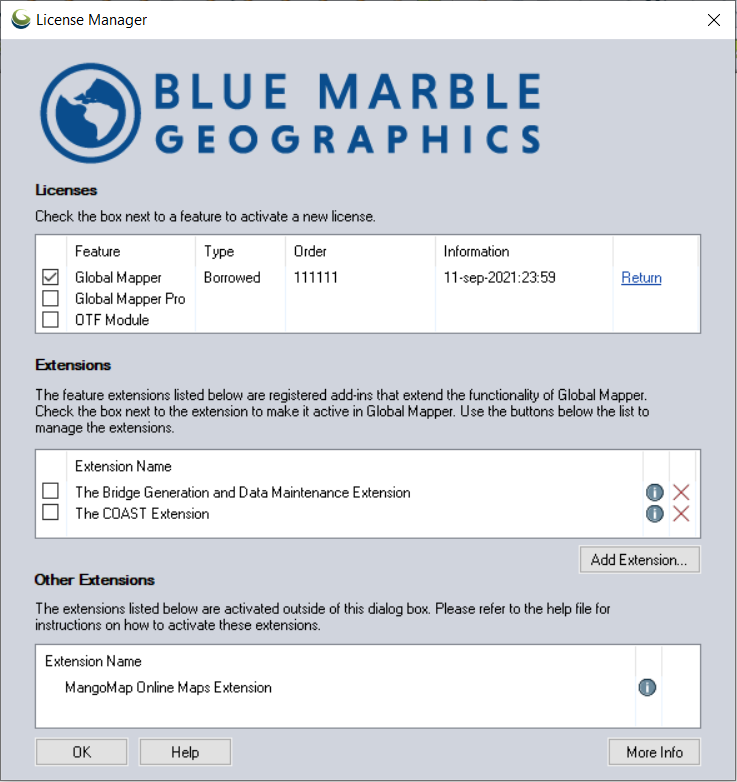 Return
If you need to return the borrowed license early you can Go to Help >License Manager... in Global Mapper.
Press the Return button at the end of the listed license.
Note: Returning a borrowed license minutes after borrowing can cause the network server to lock the license down for the full duration of the borrow period.

Note: For instructions on deploying the network license connection to many end user machines see Advanced Installation: Network License Connection