Create Roughness Grid From Landcover Layer...
This option, available in the Analysis Menu, allows you to generate a grid (and optionally areas) of roughness length values from a land cover layer. When you select this option, the following dialog appears allowing you to setup the roughness calculation: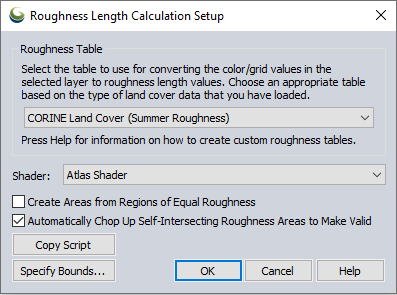 The roughness grid is useful for wind power applications and can be exported to a WindSim GWS file as a roughness layer or the  roughness areas can be exported to a WaSP .map file.
Several land cover data sets useful for roughness length calculation have built-in roughness conversion tables available:
CORINE Land Cover (Summer Roughness)
CORINE Land Cover (Winter Roughness)
ESA CCI (Climate Change Initiative) Land Cover
GlobCover Land Cover Map ESA 2009
GlobCover Land Cover Map ESA 2020
GlobeLand30 (Global Land Cover)
NLCD - US National Land Cover Database
VCF - Vegetation Continuous Fields (GLCF from MODIS)
Custom roughness tables can be defined in a roughness_tables.txt file in the user data file path listed on the Configuration > General > Advanced dialog. A sample roughness_tables.txt file can be found here.