Toolbar Visibility and Customization
Global Mapper toolbar are enabled and disabled from a Toolbars sub-menu available under the View Menu. Use this menu to display and hide the Toolbars, which includes buttons for some of the most common commands in Global Mapper. A check mark appears next to the menu item when the Toolbar is displayed.
More information on the commands found in each toolbar can be found on the Global Mapper Toolbars page
The following toolbars can be enabled:
File
Navigation
Selection
Tools
Analysis
Viewer
GeoCalc
Favorites
Digitizer (Create)
Digitizer (Advanced)
Digitizer (Edit)
Lidar
Lidar (Manual Classification)
GPS

---

Show All Toolbars
Hide All Toolbars
Show All Toolbars and Hide All Toolbars provide quick access to toolbar display or a clean interface.

Restore Default Toolbar Positions
Toolbars can be dragged around and docked or un-docked in different locations. Toolbars will also automatically relocate when they are docked if the width of the application window is too small. This option in the Toolbar sub-menu will restore all checked toolbars to the default locations in the top bar of the application.
Customize...
Customization of toolbars is available from the Toolbars Menu, or in the drop-down menu at the end of each toolbar.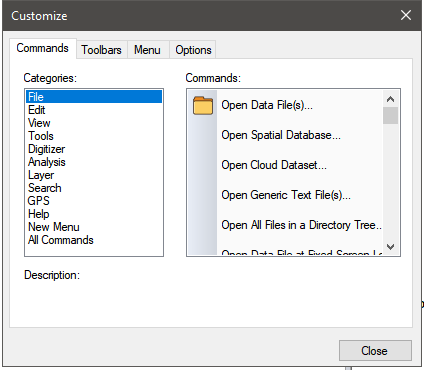 The Commands tab lists all the available options from the menus. Drag a command into a toolbar to add a new button for that command.
Once the custom button has been added, right-click on it to modify the button appearance, including changing the text label. The right-click menu for buttons (when in customize mode) contains the following options: 
Reset to Default - Restore the button to the original image and text
Copy Button Image- Copy the button image to the windows clipboard
Delete - Remove the button from the toolbar
Button Appearance... - This option provides a dialog for customizing the button text . When the Text only or Image and text options are selected, the Button text can be customized at the bottom of the dialog.
Image customization is not supported.
Image - Show the default image for the operation on the toolbar
Text - Show a button with a text description and no image
Image and Text - Show both the default image and the text description
Start Group - This option will add a new vertical divider before the current button. This can be used to organize and visually separate sets of buttons.
The Toolbars tab provides an additional list of the available toolbars, with the check-box to turn each on or off. Highlight a toolbar in the list and check Show Text Labels to label each button in the selected toolbar.
The Menu tab provides options for animating menus as they open, and showing shadows at the edge.
The Options tab provides configuration of the ScreenTips that appear when hovering over toolbar buttons. Hide the keyboard shortcuts, or hide the entire ScreenTip .