Undo/Redo
Undo Last Operation
This option, with the shortcut ctrl + Z, will undo the last recorded operation. A list of recent operations that can be undone can be viewed in the Undo Manager. Once an operation is undone, it will be available to redo.
Redo Last Operation
This option, with the shortcut ctrl + Y, will redo the undone operation. A list of operations that can be redone can be viewed in the Undo Manager.
Manage Undo/Redo
The Undo Manager lists the actions that can be undone or redone in Global Mapper. Select a specific operation from one of these lists and choose to Undo/Redo Selected Operation. The types of operations that are listed here can be configured in the Operations to Record section of the Undo Manager dialog.
These lists will be cleared when a workspace is closed and reopened.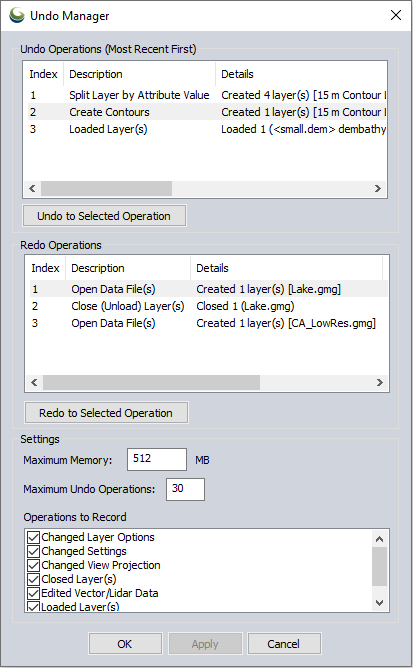 Settings
Maximum Memory

Set the maximum amount of memory that will be used to record operations to be undone/redone.

Maximum Undo Operations

Set the maximum number of operations that will be remembered. Once this limit is exceeded, the older operations will be forgotten.

Operations to Record

Check any of the listed operation types to record them and make the undo/redo options available. All options are checked by default. Right click on this list for Check All and Uncheck All options.

Terrain layer edits made with Terrain Painting will not be recorded through this manager. The Terrain Painting tool contains it's own undo/redo options.