Configure Info Tips
Info Tips are small windows that, when enabled, appear when the mouse cursor is hovered over data layers on the map. Info Tips can contain the current cursor location as well as other information about features at the cursor location.

The Configure Info Tips command allows you to specify the information that is included in each Info Tip.
To open the settings dialog for Info Tips, select the Configure Info Tips... option from the View menu.
To start or stop the display of Info Tips, use the Enable Info Tips command from the View menu. Global Mapper will remember the Info Tips settings when you close the program.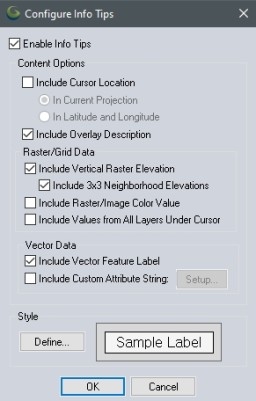 Use the Configure Info Tips dialog, pictured above, to specify the kind of information that you would like displayed in the Info Tips. Select the Enable Info Tips checkbox here to specify that Info Tips should be displayed when the mouse cursor hovers over map layers (doing so is equivalent to using the Enable Info Tips command in the View menu.)
Content Options

Include Cursor Location - have Info Tips include the map coordinates for the location under the mouse cursor. Choose In Current Projection to display the coordinates in the current map projection, or In Latitude and Longitude to display them in geodetic coordinates instead.

Include Overlay Description - display the description of the layer associated with the data
Raster/Grid Data
Include Vertical Raster Elevation - include the elevation data from the topmost vertical raster layer.

Include 3x3 Neighborhood Elevations - include a matrix of 3x3 grid elevation values around a point of interest.

Include Raster/Image Color Value - have Info Tips include the color value (in RGB) from the topmost raster imagery layer.

Include Values from All Layers Under Cursor - have Info Tips display information for all layers that exist under the mouse cursor, rather than just the topmost (or visible) layer.
Vector Data
Include Vector Feature Label - display the label for the feature nearest to the cursor position. To specify the attribute or custom string to be used for the label, open the Control Center and go to Options for the vector feature layer (either via the button or by double-clicking the layer) and look under the Labels tab.

Include Custom Attribute String - include custom data in Info Tips. When selected, the Setup... button will be enabled. When the Setup... button is clicked, the Setup Custom Attribute String dialog will be displayed. The user can then enter the new Info Tip text, and include attribute names by enclosing the name in a pair of percent signs (for example, %STATE_NAME%).  
Style
Use Define... to change the visual style elements for Info Tips. The current style is shown in the sample label in the Style group. The Select Area Style dialog will be displayed so you can choose the background color, font, and other style elements to use.