Overview Map Configuration
The Overview Map Configuration is found in the Display Options section of the
Configuration Dialog. It can also be accessed by right-clicking on the Overview Map window, and choosing Overview Map Options...
The Overview Map Configuration section provides options to enable, style and control an overview map showing the full data extent, and the extent of existing Map Views.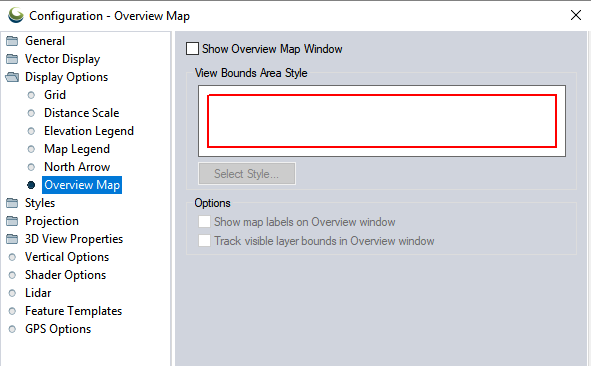 Show Overview Map Window
Check this option to enable the overview map window. The overview map can also be enabled from the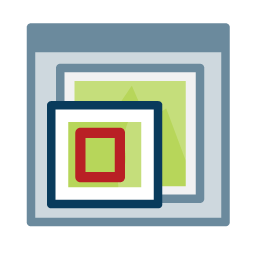 file toolbar button or the view menu.

Related Topics
View Bounds Area Style
The colors, fills and borders of the View Bounds rectangle can be configured by clicking the Select Style... button. This will bring up the Select Area Style dialog, which contains the following options:
Fill Pattern

Specify the fill pattern for the selected Area Type. Press the Color button to select the fill color for the pattern.

Border Style

Specify the Border style, color and width for the selected Area Type.

Transparency

With the Transparency slider, users can make solid filled areas partially see-through (translucent) in order to see data underneath the area.
Options
Show map labels on Overview window
when selected, labels in the map layers will also be drawn on the Overview Map.
Track visible layer bounds in Overview Window
When checked, the Overview Map window will show the full bounds of the visible layers. This is enabled by default. Uncheck it to keep the Overview Map at the full extent of all loaded data, regardless of visibility.