Obtaining a License via the Internet
This licensing option requires an internet connection, and knowledge of your Blue Marble Geographics account login and order number. If you were not the purchase agent, and do not have an online log in yet, you can create one at https://www.bluemarblegeo.com/login.php .
Before beginning the licensing process, please remove your machine from all external hardware, including docking stations. Then follow the detailed steps.
When you launch Geographic Calculator the License Manager will automatically appear. If it does not you can access it under Help > License Manager. The License Manager displays your current licensing status



Click on the License Wizard button. You will be asked to choose a method of licensing for the product. Choose the first option, "Activate a Single User or trial license (log in required)". Enter your email address and password, and press Next.

If you need to create an account, need assistance with your password, would like to change your password, press the Manage Login button.

On the next screen, enter your order number for the single user license.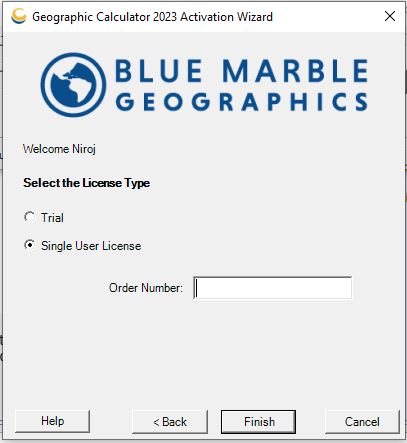 If you have already purchased a license, your computer will be automatically licensed and you will be returned to the License Manager Window. If you do not have your order number, please email orders@bluemarblegeo.com.  
 If you need to correct anything or make changes, click Back as needed to make edits on the appropriate screen.